10 Baby Foods You Can Easily Make At Home for A Healthier Diet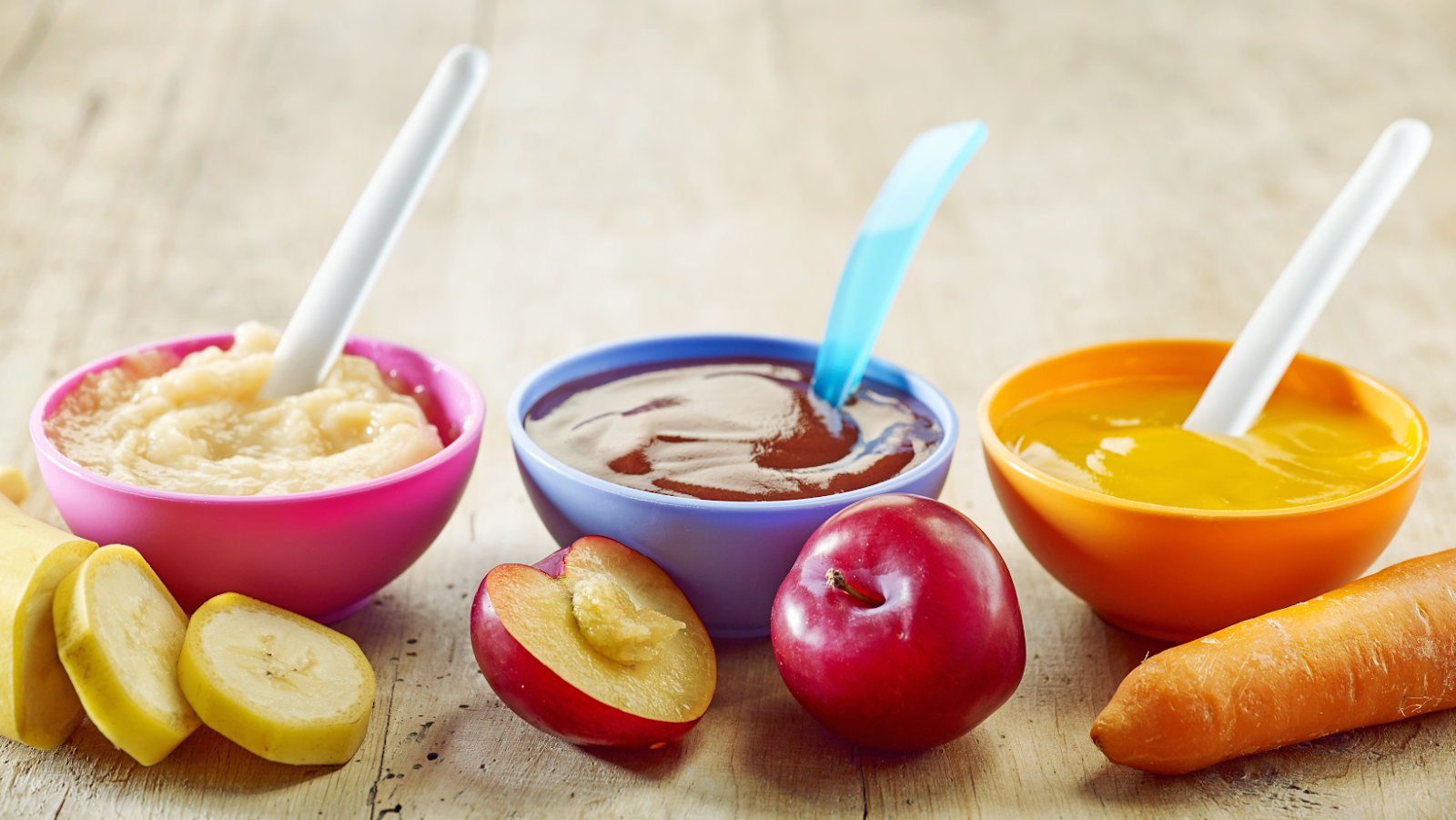 No brands can produce healthier food for babies than healthy homemade foods. So look at these ten simple, delicious, and healthy baby food recipes. Homemade healthy and nutritious foods are always appreciable for babies. But this is an issue as well. If the foods are not tasty, then babies won't be tempted by them.
Baby foods should be tasty, healthy, and nutritious, but also easy to make.
As they need to be fed several times every day, you should use easy ways of preparing their food and also bring variations in taste. To get the best from both worlds, here are ten baby foods you can easily make at home without compromising on the taste and nutritional values.
Why Homemade Baby Food Is Important
To prepare your own baby food, you don't need to be a culinary genius. Homemade baby food can be better in taste and more nutritious than baby formula brands. Of course, the quality baby formula will provide vitamins and ensure the safe development of your child but you should utilize homemade baby foods from an early age.
Commercial baby meals, while convenient, may not have the vitamins and minerals they need, not to mention the "yumminess" that may entice your child to try different meals and combinations.
With homemade baby food, you can have peace of mind because you know what goes into the meal. You can ascertain that the food you make has less exposure to heavy metals, unlike commercialized baby food. You can also control the food you want your baby to consume. For instance, you can avoid using preservatives in your baby's food, which may negatively affect their growth and development. Also, homemade baby food allows your baby to explore various food textures and flavors without compromising quality.
Moreover, you can choose from various affordable homemade baby food recipes. All of them can delight their taste buds and satisfy their tummy.
If you're making baby foods at home, these ten easy meals are quick, cheap, and, best of all, healthier than the brands languishing on the supermarket shelves.
Easy Homemade Food Ideas for 4 to 6-month-old Babies
You should utilize basic, single-ingredient purées when your kid is four to six months old.
This can help in detecting and identifying a food allergy or sensitivity. Once you've proven your child's tolerance for certain foods, you can play around with different combinations to improve flavor and taste and wean them from baby formula brands.
Brown Rice Cereal
Rice cereal is a popular introduction food since it is low in allergies and simple to digest.
Mixing it to a fairly thin consistency can help babies shift from an all-liquid to a more solid diet. In the same way, steel-cut oats can be made with a half-cup of brown rice and four cups of water as the only ingredients.
Knowing the proper use of the food processor will help you experiment with consistency. Grind the raw brown rice to a good powder in a food processor.
In a saucepan, combine the milled brown rice and boil four cups of water. Then, with the cover on, turn the heat to low and cook for 20 minutes.
Check the consistency and, if required, thin it more with water. Pour the cereal into storage containers and freeze. Or refrigerate once it has reached the consistency that is acceptable for your infant's age.
It will keep for up to three days in the fridge and up to 30 days in the freezer. And it's not only for babies: Brown rice cereal is also considered a healthy food for adults.
Avocado Puree
Avocados may be synonymous with millennials, but guess what? They are also very popular with babies. It's super simple to create an avocado puree, and it's also quite healthy.
Avocados are an excellent choice for a baby's first solids since they are tasty, flavorful, smooth, and creamy. They also include folate, fiber, potassium, vitamin E, and iron, as well as 20 vitamins and minerals.
In addition, your baby's brain and nervous system development will benefit from their "healthy fats." Avocado is likely to become one of your baby's favorite meals.
Carrot Puree
Carrots, like avocado, are a great food to give to your baby when you're just starting to introduce solids to them. Because carrots are naturally sweet, they're great in purees with green veggies to make them more appetizing.
To create this dish, all you have to do is peel the carrots and simmer them for 6-8 minutes. After that, puree them!
Vitamin A is plentiful in carrots, which aids in the maintenance of healthy skin and eyes. They're also easy to digest and don't cause allergic reactions.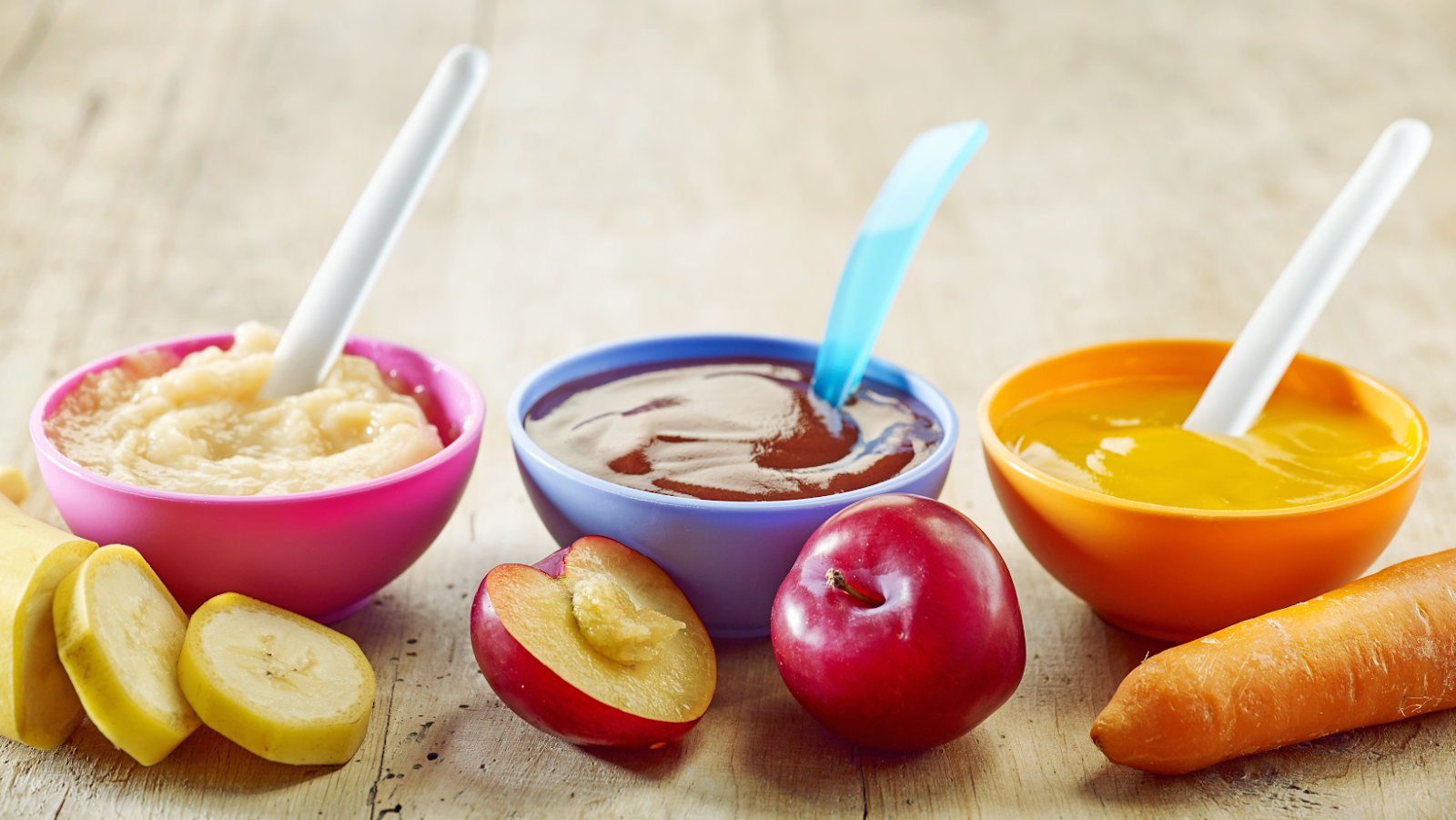 Pea Puree
Vitamin K is found in peas and is crucial for bone health. They also contain vitamin B6 and folic acid, both of which are beneficial to heart health. Avoid overcooking green vegetables to keep as many nutrients as possible in your purees.
To keep their brilliant green hue, vegetables should be cooked. They will keep their vibrant green color and chlorophyll if you steam or boil them for 3-5 minutes before dunking them in cold water.
A word of advice: to make peas more appetizing to your kid, combine them with fruit or sweeter vegetables.
You can also add some healthy spices like cinnamon, which has a sweet flavour and essential health benefits. For instance, cinnamon has antioxidant properties that may help break down free radicals in the body. It may also have antibacterial and antiviral properties that may help protect your little one against certain respiratory tract infections.
To ensure you get the most out of cinnamon's benefits in your baby's diet, you may check some reliable baby food product websites like Serenity Kids to obtain more information. Besides offering nutrient-dense baby food products, they also provide valuable tips for parents about creating baby foods quickly at home.
Easy Homemade Food Ideas for 7 to 9-Month-Old Babies
You can prepare thicker purées with numerous components for a seven- to nine-month-old infant. Keep in mind that you should only add one new component at a time. And only combine items to which they are not sensitive. At this point, or even sooner if your doctor approves, you can add meat and other proteins.
Apple and Prune Puree
Prunes are such a misunderstood and undervalued fruit! If you find yourself passing by the prunes in the supermarket without giving them a second thought, keep in mind that they make fantastic baby food!
Prunes are nothing more than dried plums that are high in antioxidants. They also "keep things moving" to keep your baby from being constipated.
Kids love it when you mix together apples and prunes. To add some natural sweetness, mix this prune and apple puree with yogurt, cereal, or green vegetables.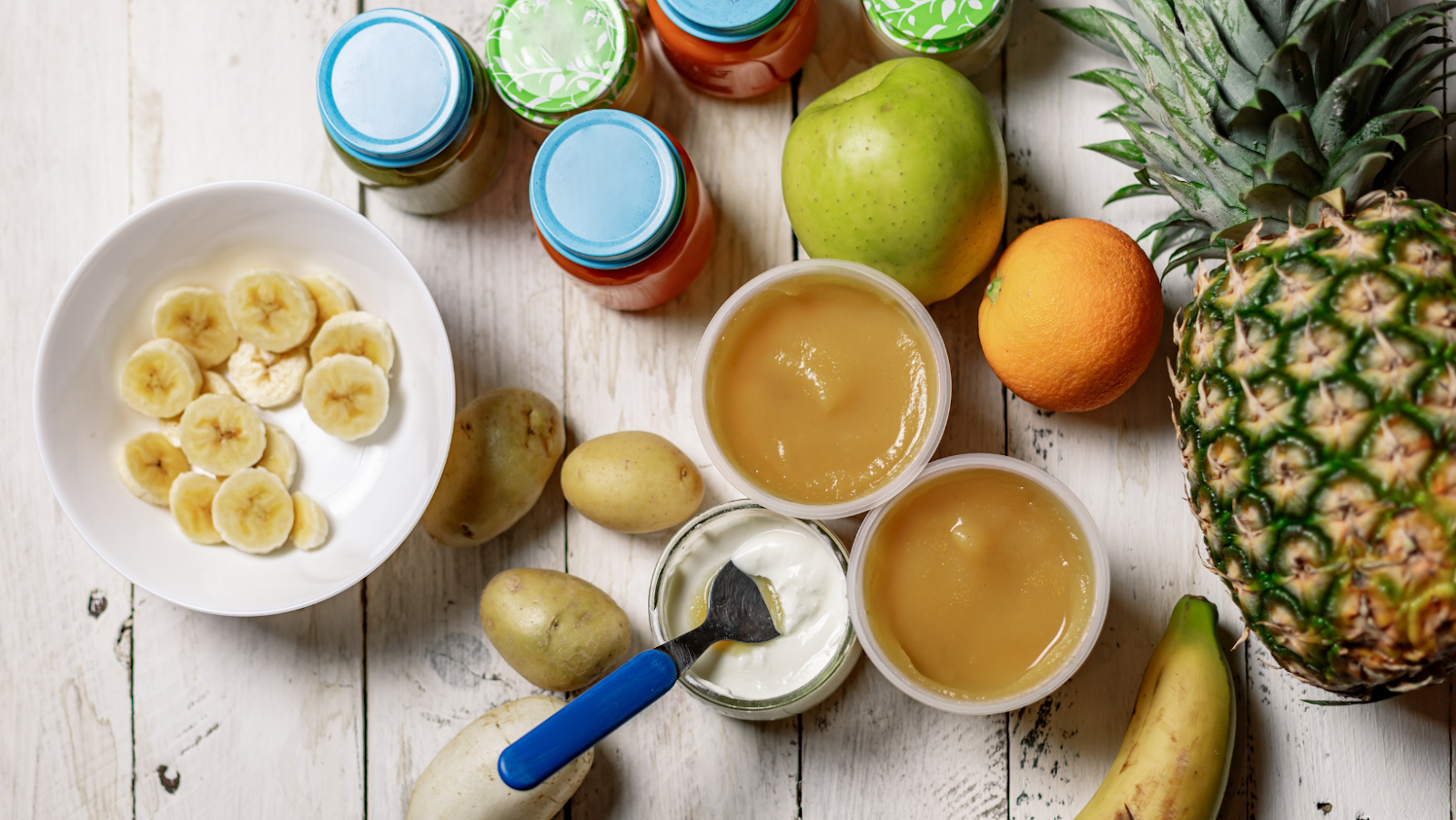 Spinach, Broccoli, and Cauliflower Puree
This puree of broccoli, spinach, and cauliflower is the most nutrient-dense you'll ever make. It is high in vitamins and minerals, as well as iron. This puree is also high in phytonutrients, which have been linked to anti-cancer qualities.
Start with small servings early in the day because this puree has a lot of fiber. Fiber is great, but too much might induce gas or tummy discomfort in your baby. So you'll want to avoid serving this puree close to bedtime at first.
If your child is used to these veggies, though, you may serve them anytime you like! If your baby doesn't like the taste of the greens, add some organic plain yogurt and pear puree to the mix.
Apple, Zucchini, and Carrot Puree
This puree will undoubtedly be a hit with your child. With the addition of two organic Fuji apples, zucchini and carrots are light and reasonably sweet vegetables.
Even more wonderful is this tasty combination! It's the ideal puree to add to your baby's oatmeal. The procedure is nearly identical to that of the "spinach, broccoli, and cauliflower puree." It's simple, quick to prepare, and nutritious.
Easy Homemade Food Ideas for 9 to 12-Month-Old Babies
Your infant can start eating chunkier purées and mashes when they are nine to twelve months old. You may also include dairy products like cheese or yogurt in their diets.
At this age, many neonates can proceed to adult food and intricate combinations that have been finely minced or softened.
Quinoa Banana Mash
Quinoa is a high-protein grain that you may give to your infant while they are still growing. This gives the banana mash a lovely new texture that your baby will like.
The real fun begins when you move beyond vegetable and fruit purees and into baby's first meals. This is a period when introducing new flavors and sensations to your kid may be thrilling for both of you.
Quinoa has a lovely nutty flavor that children like eating. Because it's combined with banana (a flavor that your baby is probably already familiar with), it's extremely probable that your baby will enjoy this dish.
Quinoa is a terrific dish to keep around for you or your kid to nibble on the morning, noon, or night. It just takes 15 minutes to make and keeps well in the refrigerator.
Beef Stew
Beef stew is a simple and quick method to make homemade baby food, and it's easy to include when making regular beef stew for the rest of the family.
When it comes to beef stew, almost everyone considers it to be calming and comforting.
You might be surprised to learn that beef stew, which is heavy in iron (from the meat), is an ideal choice for newborns just starting solids (from the vegetables). Once pureed, it makes a great baby meal.
Cherry and Mint Greek Yogurt Puree
This is a basic recipe for babies who are just learning to like yogurt. It's simple yet tasty; fruity but not overpowering. Above all, it is quick and simple.
Unlike store-bought yogurt, which has a set amount of fruit, you may use as much or as little fruit puree as you choose when making your own. This will allow you to eliminate extra sugars.
Start with a spoonful of fruit with a dollop of yogurt. Once they've acquired a taste for it, you can reduce the fruit and increase the yogurt.
An Important Tip for Parents
While feeding your baby, try to notice if any food seems to give them any kind of reaction. If you find any particular food like that, try to avoid it.
Ask your doctor what kind of food you should provide your baby if they have sensitivities. Don't neglect this matter. Try to make food healthy and convenient.
Final Thoughts
It's no easy process to shift your baby from a diet that they're used to or introduce new ingredients in their diet. Nor is it always convenient to make sure that foods have the right balance of taste and nutrition.
But now that you know the top ten baby foods you can make easily at home, you'll be able to add more nutritious and healthy grains, fruit, and vegetables. Your baby will have a good time exploring new tastes and textures and grow to be healthy and happy.