How to Host A Successful Halloween Dinner Party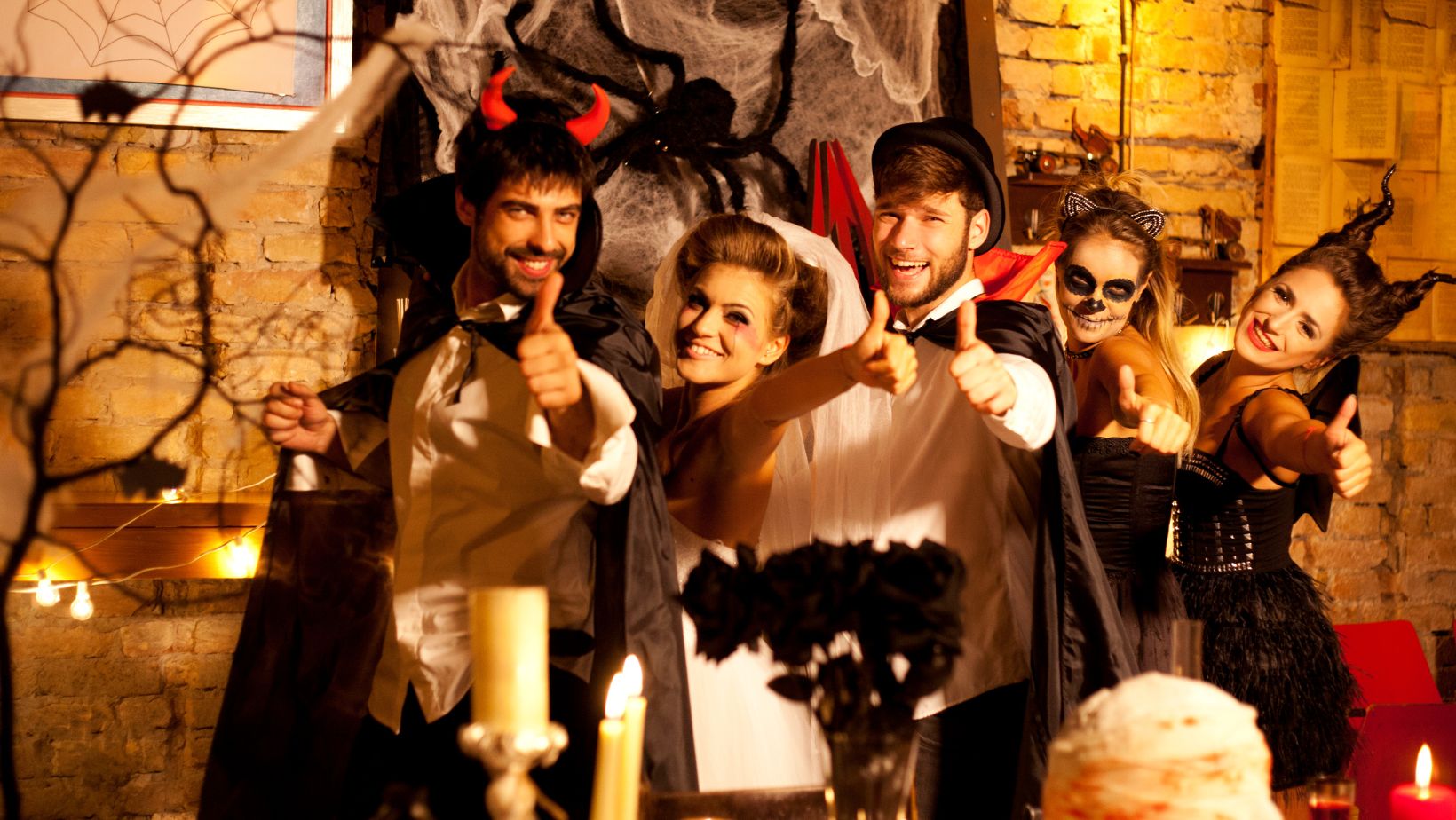 Halloween is too close. Do you need help in favoring to give some spooky ideas for Halloween party night? Hosting a Halloween party can be stressful and tough, but early preparations can make it easier for you to stay connected with your guests and have fun. Start planning early and make sure to include plenty of spooky decorations, fun food, and spooky music. You can also consider having a costume contest or a haunted house. Therefore, remember to invite all your friends and family!
Here, we have some ideas that will help you to manage everything before the day arrives. Get ready to host a successful Halloween dinner party that includes eerie decorations, delicious food, and a spine-tingling atmosphere.
10 Ideas To Host A Successful Halloween Party
Delve into the Halloween atmosphere with decorations. Plan some fun games, but first, look at the list below:
Pick a Theme
Hosting a dinner party for your loved ones is something with a particular theme. Hosting a Halloween dinner party means the theme should be spookiest and adventurous for the guests. Here is a solution for you: choose a Halloween murder mystery theme that comes with various gaming options. Make sure to set everything up accordingly, including decorations, costumes, and menu items based on a murder mystery theme.
Murder mystery themes are a great way to spice up any Halloween party. They add a sense of suspense and mystery that will keep your guests entertained and engaged. Plus, they also provide the perfect opportunity to break out some creative costumes and decorations.
List Down Your Guests For Invitation
When you've decided on the theme, you can send out invitations. You can choose between traditional paper invitations and digital invitations. Make sure to include all the necessary details in the invitation. You can also add a personal message to make it more meaningful.
Provide your guests with information about the date, venue, time, costume requirements, and any special instructions related to your theme. Make your guest list according to the number of people your space can comfortably hold. Invite family and friends who will enjoy the party. Also, remember to invite at least a few weeks before the scheduled event.
Get Ready For Decorations
A Halloween dinner party would only be complete with decorations. They create a memorable atmosphere and set the mood. There are numerous options to choose from, such as hanging cobwebs and spiders from the ceiling. However, you can even choose spooky candles and set up cobwebs and spiders around the dining table. Make sure to arrange a few festive lights to make the room look spooky.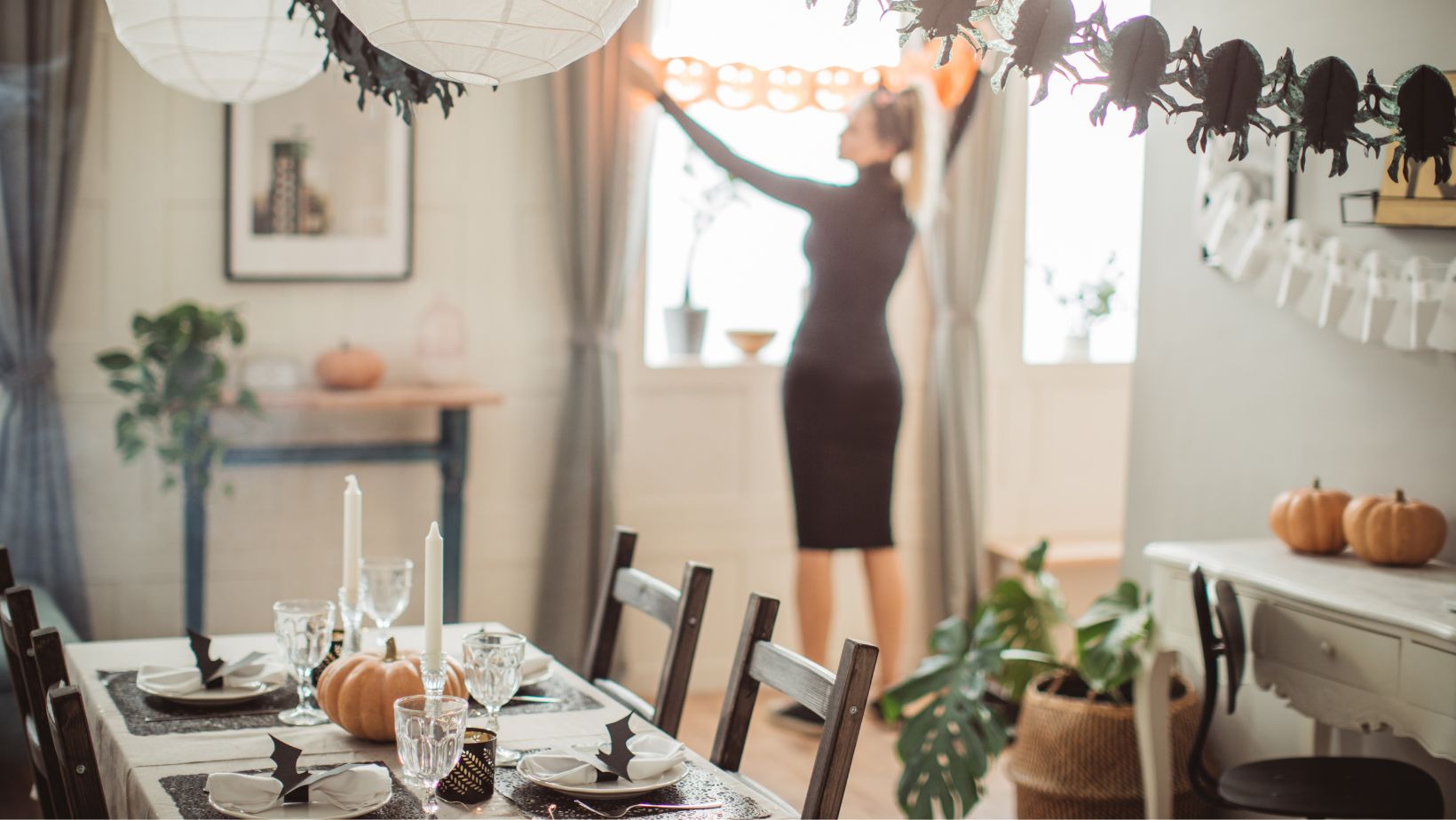 Therefore, remember to hang a few Halloween-related items on the wall. Decorate your entryway, garden, or home with carved pumpkins. Use fake cobwebs to create an eerie, haunted atmosphere. Candles play a vital role when it comes to creating a spookiest atmosphere; consider using electric or battery-operated candles.
Choose Costumes – Distribute To Everyone
Get your guests into the Halloween spirit by encouraging them to dress up. Theme-specific dress codes can be specified to ensure everyone's attire matches the theme. Ask guests to bring items that can be used to create a spooky atmosphere, such as scary masks, cobwebs, and pumpkins. Another great idea is to offer prizes for everyone who arrives in the most suitable Halloween costume.
Halloween Dinner Menu
Create a spooky dinner menu that includes traditional Halloween foods such as candy corn, cauldrons of witches' brew, and spooky snacks. Serve the dinner with a Halloween-themed playlist or scary movie to keep guests entertained.
It is important to create a menu that is both delicious and spooky for your Halloween dinner party. Be sure to choose dishes that are in line with your theme, and remember to take dietary preferences and restrictions into consideration.
Beverage Selection
Drinks are important, too! Offer both alcoholic and non-alcoholic drink options on a Halloween-themed drink menu. If you are planning a Halloween party, consider "Vampire Blood Sangria," "Witch's Brew Punch," and "Pumpkin Spice Latte." Remember that all alcoholic beverages are clearly labeled for safety. Provide straws and mixers for those who may want to customize their drinks. You can even set up a mini bar area with a bartender ready to serve drinks.
Games and Other Activities
Play games and provide entertainment to keep your guests entertained. You can arrange a competition for your guests where they should vote on their favorite costumes. Or share the ghost stories and urban legends of your guests during a "scary story" event.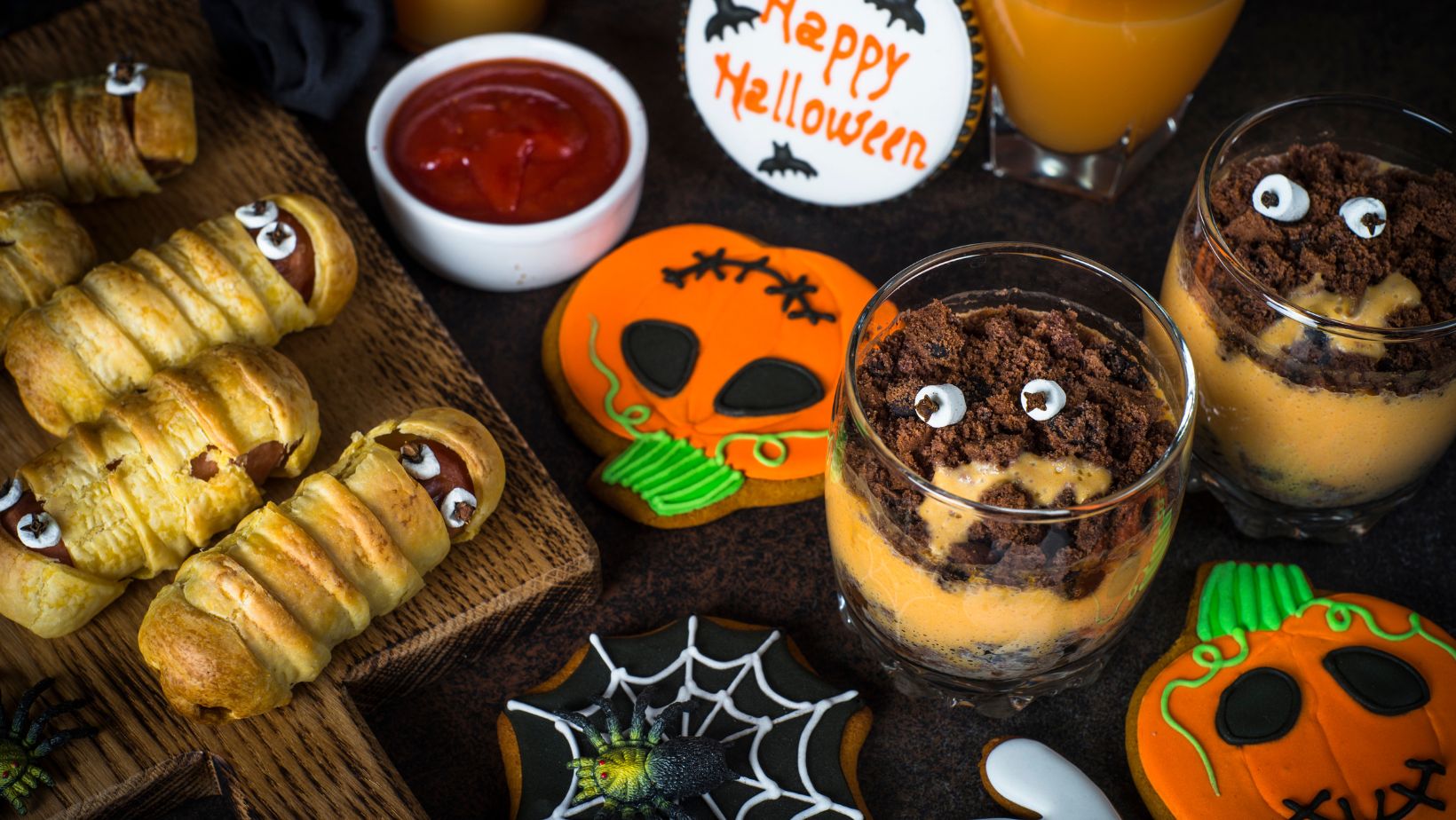 Therefore, set up a cozy area where classic horror films can be screened during a Halloween movie marathon.
Halloween party night is all about celebrating with our favorite people. So, make sure to spend the night with your loved ones who are dying waiting for you to meet and spend some quality time.
Party Favors
Do you know what are party favors? Arrange some sort of snacks like candies, trinkets, or some other theme-based items to present to your guests. This simple gesture makes your guests feel welcome and comfortable throughout the party. Choose party favors according to the theme you choose for your party.
Some Safety Concerns
Safety always comes first, even on Halloween, which is all about fun and spookiness. Make sure your space is well-lit, and be aware of any tripping hazards. Have a plan in place for guests who may need transportation home if you are serving alcohol.
Photography Session
Last but not least, remember to capture the memories of your Halloween dinner party. Make sure you take lots of pictures, or consider hiring a photographer. After the party, share your guests' photos with them and create lasting memories.
Conclusion
In the end, all that matters is quality time. Make sure you spend quality time with your loved ones. Following these steps will ensure that your Halloween dinner party is a hit that your guests will remember for years to come. Make your Halloween party a night to remember by choosing the right theme, decorations, food, and entertainment.