Low Sodium Tuna Salad –
After seeing so many posts on the low sodium trend, I thought I would share my easy tuna salad recipe. It's made with an actual mayonnaise and not egg yolk, but still low in sodium. If you're following a low sodium diet, this salad should be on the menu and it's going to be healthy, too.
This salad is, as is the case with most of my recipes, a simple one. While the tuna can be found in most of the supermarkets of the world, the cutting and chopping of the ingredients will require a knife and cutting board. Alternatively, you could use a blender for all the chopping, but, for me, the knife is the best option.
Low sodium tuna may be the new low-fat mayo.  While people are quick to associate low-fat and low-sodium foods with healthy living, some experts say we shouldn't ignore the low-sodium food trend.
Is the high salt level of tuna preventing you from enjoying a tuna-based meal? To decrease salt and enjoy one of my old school classic favorites, follow the tuna preparation procedures in this Tuna Salad with Low Sodium recipe. The beauty of this easy technique is that it can be used in any dish that calls for canned tuna.
| | |
| --- | --- |
| 1 cup (about) serving size | |
| salt intake on a typical day | 824 mg |
| Sodium content in this recipe | 116 mg |
| Serving size (calories) | 322 |
I'm not a huge fish fan, but tuna and salmon are exceptions; I could eat a delicious dish of either every day. One of my favorite ways to eat fish is with a low-sodium tuna salad, which can be prepared in a variety of ways. All of these things will help you reap the advantages of include more fish in your diet. It may be eaten as a standalone side dish, on a sandwich, in a salad, or even as an appetizer on a cracker.
Salad with tuna, lettuce, and tomatoes
TUNA IN CANNED FORM WAS NOT AS HEALTHY AS I HAD BELIEVED.
I used to work at a position where it was difficult to go out for lunch when I was in my early 30s. Making lunch for the following day was hardly the highlight of my day, given my schedule. But I liked tuna, and I had a stockpile of canned tuna in my drawer, which I ate three times a week. I used to put tuna on a piece of bread, a cracker, or a Triscuit and top it with pepper and a little cube of cheese. 
Despite the fact that I used tuna in water to reduce the fat level, the overall salt content per can was 810mg, with extra sodium from the crackers and cheese. All the while, I had no idea how much salt each one was adding to my diet. Just for a very basic lunch, it was a "easy" dish that significantly above my current day sodium targets.
SODIUM REDUCTION IN TUNA SALAD
There are three primary methods for lowering the salt content of your low sodium tuna salad.
One is to avoid adding salt and salt-containing seasonings. Also, instead of using store-bought prepared mustard, use powdered crushed mustard spice.
Tuna comprises the bulk of sodium and may be washed to have less than 20% of the sodium level of canned tuna. Below, I go through this in more detail.
Mayonnaise from the supermarket is typically the component with the second highest salt level. If you want to learn more, I have a reduced sodium mayonnaise recipe (link); alternatively, the essential ingredients and directions are included in the recipe below.
IN YOUR TUNA SALAD, REDUCE THE FAT AND CALORIES.
While I was first preparing this recipe, I was shocked and disappointed as I was working up the nutrition label and saw the fat and calorie totals per serving. Certainly 514 calories and 59% daily fat content as originally made even with low sodium mayo, for a supposedly healthy meal was flabbergasting.
Tuna salad with lettuce and tomatoes
So I used Greek yogurt to replace half of the mayo. You still get the mayonnaise flavor, but with less than half the fat (30%) and 322 calories. And it's still delicious! If you're still lacking a twang, a spoonful or two of apple cider vinegar may help.
You could also use plain Greek yogurt instead of mayo to create a low-fat version. I haven't tried that yet since I like it with my own mayonnaise, which gives it more of the "twang" I'm going for.
CANNED TUNA WITHOUT SALT?
Tuna, as you may know, lives in naturally salty sea water, which means its flesh will have a greater sodium level than, example, a land-based meat source. The quantity of sodium in salt water fish will simply be greater. To keep sodium consumption to a minimal, use a canned or pouch version that says "no salt added."
A few tuna producers have recently released canned tuna that hasn't had any additional salt added for "preservation." How much salt do you actually need for canned foods? Simply search for the ones that say "no salt added." The popular brand has 52 mg per 3 ounces. It's not terrible….
However, they all seem to be in 4 or 5 oz. cans, and I have yet to see the "no salt added" version in any of my usual local shops. It's possible that you'll have to purchase it online.
Because I couldn't find it in my local shops, I decided to make a simple preparation at home to minimize the salt.
IN CANNED TUNA, HOW MUCH SODIUM IS THERE?
In a 12 oz. can of canned tuna in water, there are 270 mg of sodium for three servings, for a total of 810 mg per can.
Labels on canned tuna for sodium
Tuna canned in oil contains significantly more salt, with 340 mg each serving, for a total of nearly 840 mg per 12 oz. can. Why do you need to consume extra salt and fat from oil in your diet? Who requires it? I'm not one of them!
However, you can decrease the bulk of the sodium in a typical tuna can with some easy preparation that takes little longer than draining a can of tuna. Here's how to do it:
SODIUM IN CANNED TUNA SHOULD BE REDUCED DRASTICALLY.
The sodium level of tuna after washing was tested in a research published in the "Journal of the American Dietetic Association." Researchers discovered that three minutes of washing canned tuna eliminates up to 80% of the salt. When you rinse 3 ounces of normal canned-in-water tuna, you only receive approximately 54 milligrams of sodium, or 162 milligrams for the entire can, instead of 270 milligrams. If you can locate and rinse the "no salt added" type, the sodium content will be reduced to just 20 mg per 3 ounces.
Rinsing canned tuna to remove excess salt
I use a fine mesh strainer and a dish that fits the tuna well, as seen in the photo, to rinse it. Allow the water to flow over the edge of the bowl to fill it up and gently spill over. When the dish is full with water, gently swirl the tuna a couple of times to loosen it up. It isn't necessary to blast it with high-pressure water!
I let it run for a few minutes and then drained it while chopping and measuring the rest of the ingredients. It's almost too good to be true. I was afraid the tuna would get stuck in the mesh, but it didn't. Simply flip the strainer over and smack it into your mixing bowl, and you're ready to go!
DO YOU WANT TO ADD SWEET PICKLE RELISH?
Sweet pickle relish is a great addition to my low-sodium tuna salad. The one I use has 65 milligrams of sodium per tablespoon, for a total of 130 milligrams in the whole dish. That's almost half the amount of regular relish and only adds 32 milligrams per serving. I find that this is enough relish to enhance the flavor I'm after, and because I'm usually keeping my salt intake to a minimum, I put it in.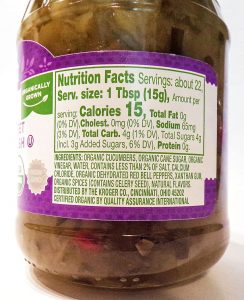 Pickle label with sweet relish
If you want an 84 mg sodium version, you may leave it out. It's all up to you and your sodium budget. I've included both pickle-free and pickle-filled nutritional labels. 
If you buy pickles from the store, read the labels carefully and choose the lowest sodium option. I say "carefully" because I've discovered that the labels are not only misleading, but also difficult to compare in terms of serving size and salt content. One recipe called for 2/3 of a pickle as a serving size! Huh?
I'm looking forward to using diced avocado instead of pickles in my next batch of tuna salad.
Here are a couple more of my fantastic recipes for you to try!
Please let me know how you liked this dish in the comments, as usual! When I hear from you, it motivates me, and I'm curious to know how you enjoyed and served your Low Sodium Tuna Salad. Also, please leave a remark or a rating, as well as any suggestions you may have.
Salad with tuna fish on my low-sodium white bread
Low Sodium Tuna Salad
One of my favorite go-to meals is this simple low-sodium tuna salad. It's great on low-sodium crackers, sandwiches, and salads!
Mode of Preparation Stop your screen from turning black.
Time to Prepare: 20 minutes
20 minutes total
Appetizer, Lunch, and Salad
American cuisine
4 servings
Calories (kcal): 270
Tuna Salad with Low Sodium Ingredients
1 12 oz. white flakes tuna, drained and rinsed
2 celery stalks, finely diced
2 sweet pickle relish (optional) – Use the lowest sodium pickle relish you can find or leave it out entirely.
1 chopped onion (I like red onion)
1/3 cup low-sodium mayonnaise (see notes)
a third of a cup of plain Greek yogurt (see notes)
1 teaspoon of lemon juice
1 or 2 teaspoons smoky paprika, depending on personal preference
1 tsp black pepper, ground
To make the mayonnaise, combine all of the ingredients in a mixing bowl.
1 big room-temperature egg
1 cup extra-virgin extra-virgin extra-virgin extra-
1 teaspoon mustard seed, ground
1 tbsp white distilled vinegar
1 tablespoon vinegar made from apple cider
1/4 teaspoon red or cayenne pepper
Tuna Salad Preparation Instructions
Rinse and drain the tuna in a fine mesh strainer that is nearly completely submerged in a dish that takes the strainer.

In a small mixing dish, combine all of the ingredients and stir thoroughly. You may use it right away, but it's always good to let the flavors mix.

Use in tuna pasta, sandwiches, salads, and cracker appetizers.
Mayonnaise recipe instructions
In a small jar or beaker just wide enough to accommodate your stick blender, combine all ingredients in the order indicated.

Turn the stick blender on high and place it in the bottom of the jar. The oil will thicken and change to the usual off-white color as a vortex forms and pulls it down.

Slowly raise and lower the blender head, a little higher each time, until all of the oil is absorbed and the mayo is thick, with no visible oil drizzles. It should take little more than one minute to complete the mix.

Refrigerate for up to two weeks or until the eggs have passed their expiry date in a sealed container.
For additional information on how to make mayonnaise, see my Low Sodium Mayonnaise article. To make a lower-fat tuna salad, use Greek yogurt. If you want a creamier flavor, use extra yogurt. If you're not concerned about fat, use 2/3 – 3/4 cup reduced sodium mayo and skip the yogurt.
270 kilocalories
Combined with Pickle
No Pickle
We made these Low Sodium Tuna Salad recipe in the past and we are going to show you how to make this salad in a way that is perfect for summer.. Read more about healthy tuna salad with avocado and let us know what you think.
Frequently Asked Questions
What can I use in tuna instead of mayo?
You can use sour cream, yogurt, or even a bit of mayonnaise.
How much sodium is in tuna salad?
The amount of sodium in tuna salad is about 150 mg per 100 grams.
Is there a lot of sodium in tuna salad?
There is a lot of sodium in tuna salad.
Related Tags
This article broadly covered the following related topics:
low sodium tuna salad
low sodium tuna salad recipe
low sodium tuna salad sandwich
healthy tuna salad without mayo
healthy tuna salad